Abu Dhabi Art 2016
Abu Dhabi Art 2016 
November 16-19
My journey to Abu Dhabi continues with Abu Dhabi Art. The Fair took place in the Saadiyat Cultural District, an innovative island that will open in short time the Emirates version of Louvre and Guggenheim and with the Zayed National Museum. A big and futuristic art platform showcasing local and international cultures and arts.
Abu Dhabi Art Fair guested the world's innovative galleries showcasing modern and contemporary artworks from established and emerging artists from all around the world.
A rich programme of events, meeting and performance in the fair and in the city enlights the vibrant atmpshere of Abu Dhabi.
A fil rouge was connecting a lot of artworks I saw in this exhibithion, calligraphy – the Chinese artist Wang Dongling – performed a "Monumental Calligraphy" in the Exhibithion's garden – graphic signs and numbers,  like tiny, minute letters who creates shapes and landscapes, like the Korean artist Yoo Seung Ho whose works exhibit the relationship between language and images in a new way through the form of 'Munjasansu" (calligram landscape painting) and big graphic sign like Khaled Al Saai, the Syrian artist who uses calligraphy for expressing feelings, thoughts, and sensations without becoming tied to the language. He deals especially with Arabic letters, their shapes, and their symbolic, religious, and musical origins.
My favourites artworks:
Francesca Pasquali, Straws 2016. Stunning artwork made by straws that offers hundreds of differents views, shadows and colours
Kader Attia, Untitled 2015. A mystical experience. The unexpectd experience deriving from getting in a ruined not finished room (from the outside) to a black room with a puzzle of fragmented pieces of a decorated broken window of a medioeval european church, troughout the soft and cloured light, pass and heat your hearth. It was the most mystical experience I have lived in front of an artwork 🙂
Ahmad Angawi   Enlightened artist who shows the process of the creation of a geometrical shape, like the flower of live. The phases are shown trough slices of glass on which is you can see a part of the progressing creating shape. With a torch below the installation you can enlight each phase and contemplate the sacred geometry in its different shapes and perfection. Great, another mystical experience. Who knows about sacred geometry can understand the importance of this work but everybut can appreciate and be surprised of the amazing perfection of the whole creation in the universe.  Stunning artwork! I love it!
Hiroyuki Masuyama Masuyama engages in an exploration of passages across time, space and art history. This artwork is a photomontage after the 19th Century painter J.M.W. Turner (British, 1775-1851), who traveled widely across Europe and documented their journeys in paintings. Returning to the sites that Turner captured over 160 years ago, before the invention of the camera, Masuyama takes several thousand photographs. With these images, he composes reproductions of the original paintings out of thousands of images, building the painterly atmosphere and light out of his contemporary photographs. The finished photomontage is mounted on a lightbox, illuminating his composite image from within. Simply amazing!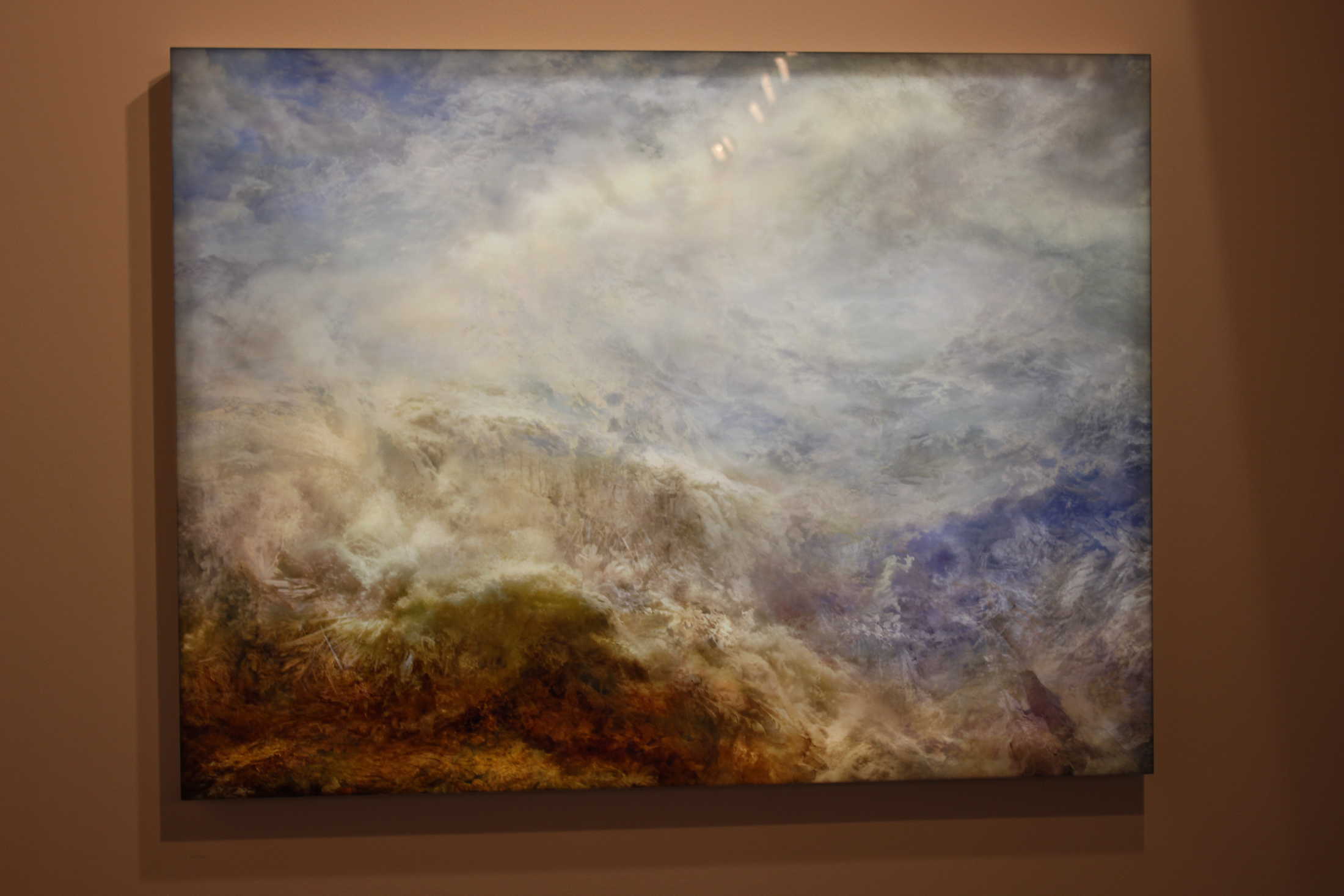 Happy to have visited this vibrant event!